Day 5 with Under One Sky, bringing hot drinks, food and a little comfort to those on the streets of London.
Twitter feed video.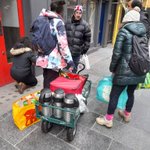 Out and about again today with https://www.underonesky.cc/ distributing some fabulous food very kindly provided by Gaucho (Mayfair), Punjab restaurant (Seven Dials), Filipino Unite, The Ivy Collection and others, together with hot drinks, bottled water and fresh fruit.
Twitter feed video.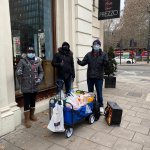 More fantastic work by London masons.
Twitter feed video.
John Parry
@JohnMetevent
Loading up our pre-Christmas drop of care packages to London Women's Refuges. Huge thanks to Bro Keith Knowles for the use of the Hercules Pillars, the MetGStwds and the rest of the team who helped in so many ways.
Load More...