Ron Saunders #partofthepride A6 H 203
Strangest cappuccino I have had in a while.
Twitter feed video.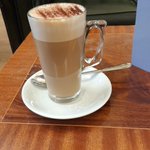 Next PSA testing now available to book on-line. Testing will be carried out at Freemasons' Hall on Thursday 24th June in tandem with the blood donor session that same day. PSA testing is open to all men, not just freemasons so tell your friends and family.

Load More...